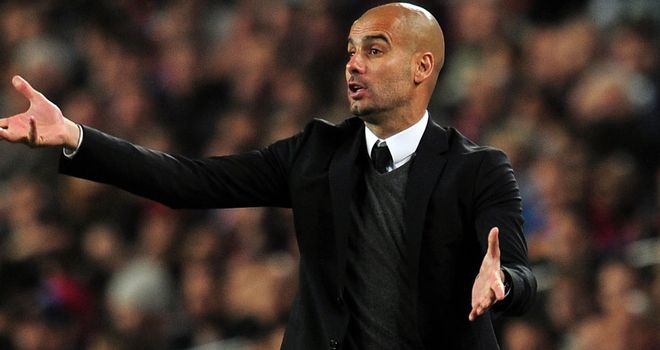 Pep Guardiola: Leaving Barcelona after four trophy-laded years in charge at Camp Nou
It
was on Friday announced Pep Guardiola is to leave Barcelona at the end of the season after deciding he does not want to renew his rolling one-year contract. The classy Catalan, at an emotional press conference, has explained his reasons for deciding the time is right to quit Camp Nou. But what now for Guardiola? Here Sky Sports considers the options.
It is the most likely scenario given the weight of pressure Guardiola has been under since taking over at Barcelona in 2008. A year on the beach and travelling the world would be the perfect way to rest a body that, over the space of four years, has appeared to take the strain. It has been questioned whether Guardiola would be able to completely free himself of the drug of football for 12 months. But for a man of such steely determination, focus and belief in his own methods, it is unlikely he would change any plans for rest and recuperation. A sabbatical seems a certainty. Guardiola always said his time in charge of Barcelona would prove a short-term period. The term 'burnout' has often been used to refer to the pressures which have been placed on Guardiola and his Barcelona squad after a phase of intense and trophy-laden success. The philosophical concentration on tactics, team spirit, style and principles took its toll. Guardiola is said to be exhausted.
Sky Bet Odds
Guardiola's next club: Arsenal 9/4, Chelsea 11/4, England 4/1, Manchester Utd 6/1, Manchester City 8/1, Liverpool 10/1.
Club management
Understandably for a manager with a curriculum vitae that includes three Primera Liga titles, one Copa del Rey - which could become two come the end of the season - three Spanish Super Cups, two UEFA Champions Leagues, two European Super Cups and two Club World Cups, Guardiola will be in high demand. The 41-year-old's style of play, widely nicknamed Tiki-taka, and his commitment to youth development also mean he will be the most in-demand manager in world football when he decides to return to work. There are said to have already been offers and contact from some unnamed clubs. Among the potential approaches could be Manchester City and Chelsea. Both have the wealth to offer a lucrative contract and the latter, particularly, would likely be prepared to pay whatever it takes to get their man. Chelsea are without a permanent manager and, despite the success of Roberto Di Matteo as interim first-team coach, Roman Abramovich would most likely love to recruit Guardiola. He perfectly fits the vision of style combined with success that Abramovich is still seeking. But the recruitment policy and day-to-day business which exists at both City and Chelsea would represent completely different challenges and mentalities for Guardiola. He is not one to simply throw money at signings. Manchester United have also been connected and will eventually need a successor to Sir Alex Ferguson, whose own success and 26-year longevity in the face of such pressure now appears all the more incredible when compared to Guardiola's decision to leave Barcelona. It seems unlikely any club will be able to immediately recruit Guardiola, who is wary of any act that could be perceived as betrayal to Barcelona.
International job
Perhaps in an indication of English arrogance, Guardiola has immediately been linked with the job as England manager. The English Football Association would most likely relish the thought of Guardiola. But why a Spaniard of morals and exacting standards would want to take such a poisoned chalice of a job as the role of England manager is difficult to understand. Whether Guardiola thinks England's players have the ability to play in his vision is another issue which would need to be considered. It has been suggested Guardiola, during his time out of the game, would be welcomed at the FA's new National Football Centre at St George's Park when it opens. It is pitched that Guardiola would spend a day giving talks on coaching style and methods and could lift the lid on the secrets of Barcelona's famous La Masia school. Again, why Guardiola would feel any wish to do so is open to debate.
@SkySports