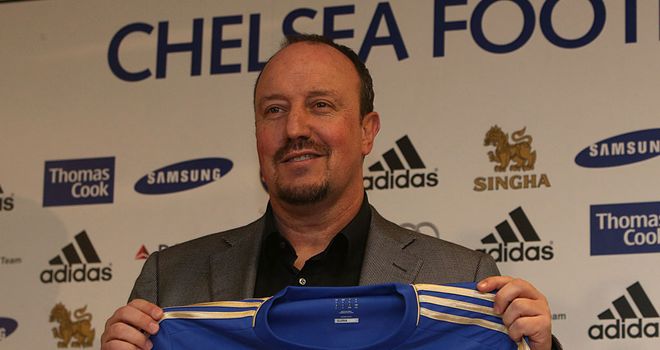 Rafa Benitez: Unveiled at Stamford Bridge on Thursday

The former
Liverpool
manager has been installed as
Chelsea
manager until the end of the season following the dismissal of Roberto Di Matteo on Wednesday.
Rafa Benitez has vowed to win over Chelsea fans after the news of his appointment was met with a hostile reaction from the Stamford Bridge faithful.
There was some surprise that Benitez was willing to accept a short-term contract, but the 52-year-old said the chance to manage Chelsea was too good to pass up.
"My priority was to work in the Premier League, I'm really happy to be here with a top side," said Benitez, who confirmed that Boudewijn Zenden.
"For me the most important thing is I am here because I want to be here. I was looking for the right opportunity, I was looking for a top side who can fight for trophies.
"I don't care about the short-term (deal), what I have in my head is to win every game. We have five trophies to fight for. We will see what happens, in seven months we can win some trophies.
"At this level you are expected to win, do it well, and win trophies. I have a lot of years' experience at this level, and I will do what I have to do to win games.
"I like to do things in the right way for the fans. I am sure they will be happy with a manager with a winning mentality."
Benitez was also quizzed on his previous comments about Chelsea made while he was in charge of Liverpool, many of which were less than sympathetic towards the team and supporters.
He said: "I want to be honest, if I say this or that, I have to analyse the context. We were playing against Chelsea in the semi-finals of the Champions League.
"If I am a fan I want to see the manager fighting for my club. I don't see this as a lack of respect for Chelsea's fans, just a manager defending his team before an important game."
The former Inter Milan boss, who also strongly hinted John Terry would stay on as captain, said he was not put off by talk he is simply keeping the hot-seat warm for Pep Guardiola.
"I have a very good relationship with Guardiola," he added. "He is a great manager, what will happen in future I don't know.
"When you analyse why go to a top side for seven months - it's because you can win trophies."
@SKYSports